Hmm...Kind of a confusing application process...but... O WELL!! Band Geeks are supposed to know how to solve problems!



*~*Application*~*
Application
1. Name: Kaylin
2. Age: 16..17 in Spetember...
3. School/City its located in: Brandon, South Dakota
4. What bands are you in: Brandon Valley Marching Lynx!!! Concert Band, and Pep Band
5. Are or have you been a field commander/section leader: When I was younger I was always a section leader...but now in High School it's too hard to beat the seniors because they ROCK!!!
6. What instruments do you play/ how long have you played them: Well, my main instrument is flute, I have been playing it since 5th grade...So um, what is that...six years? yea... A few other instruments I know how to play are:
Clarinet
Piccolo
Piano
Guitar
Trombone
Tin Whistle
Saxaphone
7. What makes you a band geek: Oh, you know, the way we come up with gangster names for our band directors, the way I always scold my friends when they walk out of step with me at the mall or not roll their toes, my whole family playing instruments, the sign in my front yard proudly showing my place in the marching band, the way I brag to my friends how much cooler I am that I get up in the morning to go to band and exercise while they roll their eyes at me and I just tell them they all shouldn't have quit band because it rocks my socks off. And most importantly, I get along with EVERY BAND MEMBER HOLY COW!! ;)
8. Your best and favorite band camp story/ Memory: When we had a competition between sections who could come up with the best cheer/play, and Marissa, our cheerleader fute came up with an awesome cheer, mimicking/mocking whatever you want to call it, the silly quirks our drill writer/directors/others sections would do, like how the Sax's theme song is 'Row, Row, Row, your boat'...and we WON!! YAY! It was awesome...And how our band came up the the name Band-o's instead of band nerds or geeks, and our whole town knows that, that we are band-o's HAHA YAY! GO BANDO'S!

Things you like

9. 3 Fave bands: Like, famous bands or other school bands? Other school bands would be O'Gorman, Roosevelt and Waseca...Fave famous bands would be Green Day, Loreena McKennitt, and 3 Doors Down
10. Fave book: HARRY POTTER ALL THE WAY
11. Fave movie: Oh wow, Harry Potter mostly, but there are a lot more...

About band
12. What chair are you and out of how many: I am 4th chair in the Symphonic band (the better one) out of 8 or 9 I think...It's been awhile since school got out...But it's pretty sweet, because I am going to be a Junior this year, and the only flutes higher than me are seniors...so technically, I am the best not counting the seniors who are already the best...
13. What do you think being a band geek is: Supporting band and your section and being loyal e.g. going to competions, showing spirit (like joining awesome communities), helping others to get better, playing with your heart...
14. how big is your school band: 190 I believe...In marching band...225 all in all I believe...There is just soo many people in band, it's hard to count...
15. Are you in marching band: BOOYAH BABY! Of course I am! YAY!

Your opinion

16. do you have to play an instrument to be a band? why or why not? I think so because a band is instruments...It would be a chorus if it was vocal...But say you have like, a garage band, I would say as long as you have some instruments and are making music, it's a band
17. What do you think about american pie? Actually, I have never seen the whole movie, I've seen about 10-15 minutes of the first movie, but I have seen the flute part, I think, but I usually just quote it as a joke because everybody has seen it except me...I prefer not to really see it either, it might alter my view on band...
18. Where you offenced by the American pie movies? Can't say I was since I didn't see them all

Few more things
19. Is band the most important thing to you? I will be honest, it isn't the most important, my family is very important to me...But I try and be as loyal to band as I can, and it is one of my more important things, it's just, life is so busy...
20. Do you think your a band geek? LOL! I just filled out this whole application because I wanted to join this community so bad, and I talk about band all the time...yea, I would say I am pretty geeky...AND I LOVE BAND!!!
21. Promote us in one place, show us the link? http://www.livejournal.com/users/danssugrbaby/24334.html...Not much promoting I know, But I don't have a website to post it on or anything...
22. Post at least 3 pics of yourself ?
My camera has been being stupid so I can't take pictures of my new hair cut...the last one is the most recent, of me, AT BAND!!!..THe other ones were taken at band CAMP!!!:::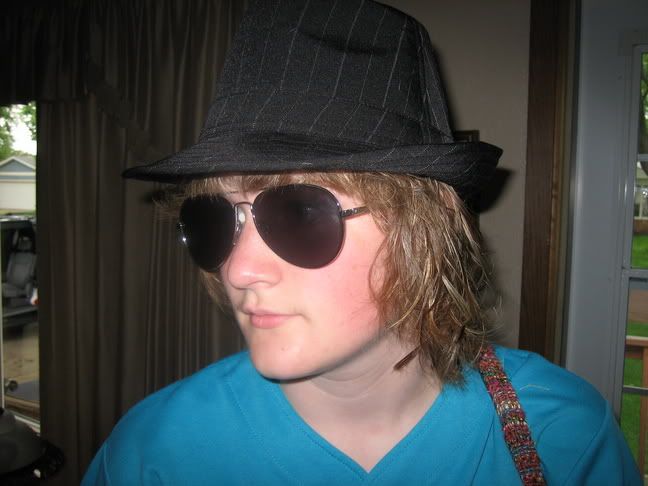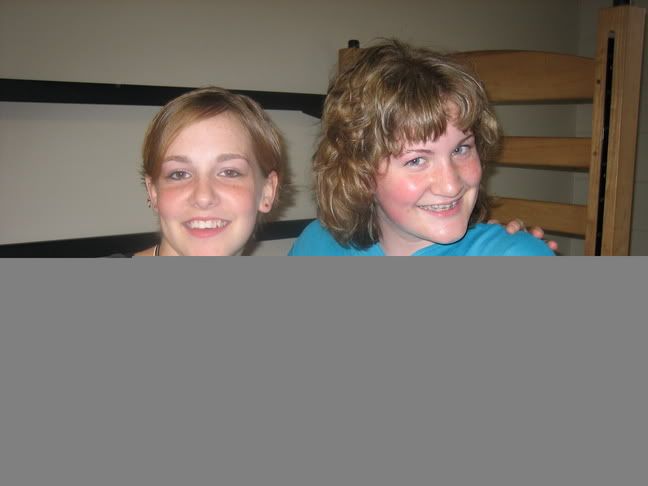 I'm the one on the right...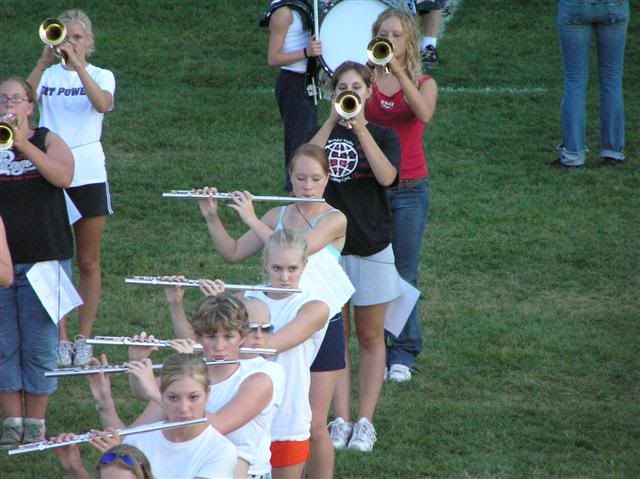 I'm the one standing in front of the short girl with sunglasses..A.K.A. I'm the one with really short hair...

Haha! That was fun!!!