Application
1. Name: Emily
2. Age: 16, Junior
3. School/City its located in: White Lake, Michigan/ Lakeland High School
4. What bands are you in: Wind Ensemble and Marching Band
5. Are or have you been a field commander/section leader: I'm drum major for this coming season.
6. What instruments do you play/ how long have you played them: Oboe-5 years, Alto Sax-6 years, Piano-9 years
7. What makes you a band geek: Band is my life, and band is pretty much all I talk about. I don't think I could live without band as a part of my life. I'm a band geek, and I'm proud of it. :D
8. Your best and favorite band camp story/ Memory: It isn't particularly funny, but extremely memorable. On our last day at band camp we always hold a performance and the field for the parents, and it is the last performance at band camp for the seniors. Last year, unfortunately, there was a tornado warning issued at the time when we were supposed to have the performance, and naturally there were many seniors crying and upset that they wouldn't be able to have their last performance at camp. The performance was cancelled, but many people were very rebellious to leave and still wanted to hold a performance. So, in the midst of a tornado warning and pouring rain, at least half of the band stayed an hour later than check-out time to perform a stand-still performance of our show just for the seniors. The seniors were placed in the middle of our arc, and all of them cried while playing. It meant tons to them that people cared about them so much that they would perform in the middle of a storm for them.

Things you like
9. 3 Fave bands: Dashboard Confessional, Goo Goo Dolls, and Norah Jones (I know she isn't in a band, but she's one of my favorite artists)
10. Fave book: Lord of the Rings Trilogy :D
11. Fave movie: The Sound of Music

About band
12. What chair are you and out of how many: Well in Wind Ensamble I share first chair with my other oboe buddy and we alternate solos. As an alto I'm 3/12.
13. What do you think being a band geek is: Loving, breathing, eating, and sleeping band with pride.
14. How big is your school band: about 120
15. Are you in marching band: of course

Your Opinion
16. Do you have to play an instrument to be a band? why or why not? In my opinion, no. Guard is just as much a part of the band as the instruments are, and they are just as important...so of course they are still a part of the band.
17. What do you think about american pie? They are fun to watch, but they are extremely unrealistic and they steryotype band big time.
18. Where you offenced by the American pie movies? nah not at all.

Few more things
19. Is band the most important thing to you? HECK YES
20. Do you think your a band geek? I love band :)
21. Promote us in one place, show us the link?
http://saxyem2008.livejournal.com
22. Post at least 3 pics of yourself ?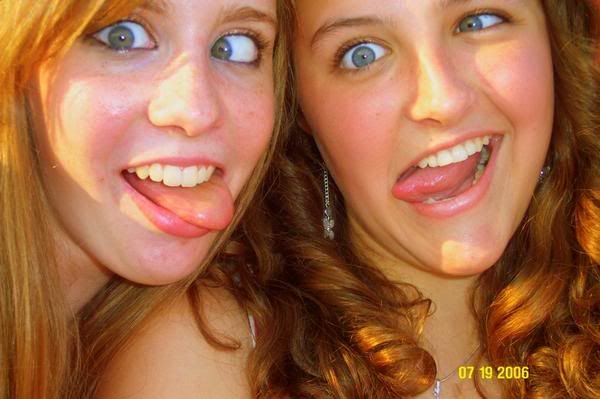 My best friend Amy and I.



Me, Michelle, and Sam at DM Academy :D